Goal and Impact
We strive for a nursing workforce that reflects the diversity of the nation's population. Increasing the number of nurses from different backgrounds, including races, gender, and ethnicities, will contribute to better health and health care for all. From such diversity in nursing comes a deeper understanding of the elements that affect a person's health and emotional well-being, and ultimately, improved care and treatment in order to achieve health equity.
Progress
The number of minority students enrolled in advanced nursing education is increasing. Some 30 percent of students at the baccalaureate, master's, doctoral, and doctor of nursing practice program levels represent minority populations. The number of men in nursing is also increasing. In 2018, 14 percent of pre-licensure RN program graduates were male.

This graph is a part of the Campaign for Action Dashboard, a series of charts and graphs that show goals by which the Campaign evaluates its efforts to implement recommendations in the Institute of Medicine's The Future of Nursing, Leading Change, Advancing Health.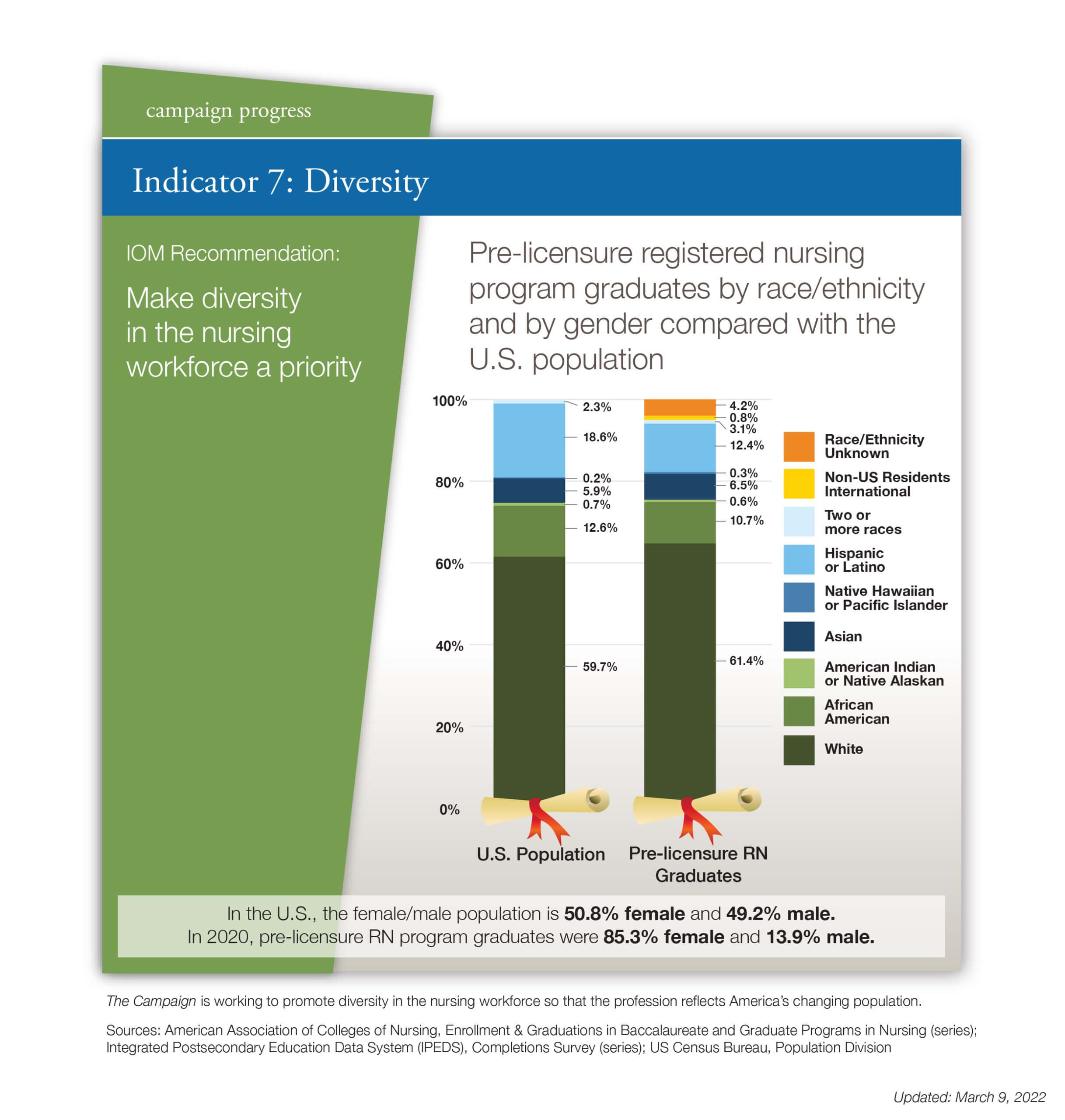 Resources:
Apr 04, 2023

6The Future of Nursing: Campaign for Action is a national initiative working toward an America in which everyone can live a healthier life, supported by nurses as essential partners in providing care and promoting health equity and well-being.   Action Coalitions, led by nurses more

Issues: Collecting Workforce Data, Increasing Diversity in Nursing, Tools & Tips: Action Coalition Resources, Internal operations, Mentoring, Organizational excellence, Location: National,

Jan 01, 2023

The purpose of this resource is to guide faculty on culturally responsive approaches for engaging and mentoring of American Indian /Alaskan Native students, as well as to offer teaching and learning strategies for faculty to use with students. (Updated January 19, 2023). The more

Issues: Building Healthier Communities, Improving Access to Care, Improving Health Equity, Increasing Diversity in Nursing, Promoting Nursing Leadership, Transforming Nursing Education, Tools & Tips: Mentoring,