Goal and Impact
A strong nursing workforce is key to a healthier America, so nurses more than ever are furthering their learning as their education system is transformed. (See resources related to linking a Culture of Health and nursing education.) Because the bachelor of science in nursing degree is the catalyst to career growth, the Campaign has identified five models by which professionals can attain that BSN. And nurses are mastering the complexities of care and advanced technology—allowing them in greater numbers to contribute decisively on teams, understand health policy, analyze information to make critical decisions, and contribute to health equity.
Progress
The Campaign aims to increase the proportion of nurses with baccalaureate degrees to 80 percent by 2020, and to double the number of nurses with a doctorate. Indeed, for the first time ever, starting in 2012, the number of nurses graduating with a bachelor of science in nursing (BSN), including RN-to-BSN, surpassed those earning an associate degree.

The number of RN-to-BSN graduates increased 236 percent from 2009 to 2019∗. The Robert Wood Johnson Foundation's Future of Nursing Scholars program, created to develop a new generation of nurse leaders, has contributed to the ranks of PhD-prepared nurses. Since 2010, the number of employed nurses with a doctoral degree has more than doubled. And the Campaign is promoting five promising education models to help nurses face fewer hurdles in obtaining advanced academic degrees; 30 states are enrolling nursing students in one of these models.
The five models:
RN-to-BSN degree from a community college. This model allows registered nurses to complete their baccalaureate degree at a community college.
State- or regionally shared outcomes-based curriculum. This model represents a common goal that extends across community college associate degree in nursing programs, and includes baccalaureate completion at the university level. The curriculum is not standardized but partners develop a shared understanding of standardized outcomes.
Accelerated options: RN-to-MSN. This model offers a shorter timeline than traditional BSN or master's programs, so that those with associate degrees can obtain an advanced degree. The RN-to-MSN popularity is driven by more associate degree graduates returning to school to get an MSN without a BSN.
Shared statewide or regional curriculum. These collaboratives between universities and community colleges let students transition from an associate degree to a BSN program without repeating coursework.
Shared baccalaureate curriculum. This model shortens the time between nurses' obtaining an associate and a bachelor degree. Community colleges work with colleges and universities that allows a student to take classes at both the community college and the university, obtaining an RN license only after completing the baccalaureate degree.
∗Source: American Association of Colleges of Nursing, Enrollment & Graduations in Baccalaureate and Graduate Programs in Nursing. (2009-2020).
These graphs are part of the Campaign for Action Dashboard, a series of charts and graphs that show goals by which the Campaign evaluates its efforts to implement recommendations in the Institute of Medicine's The Future of Nursing, Leading Change, Advancing Health.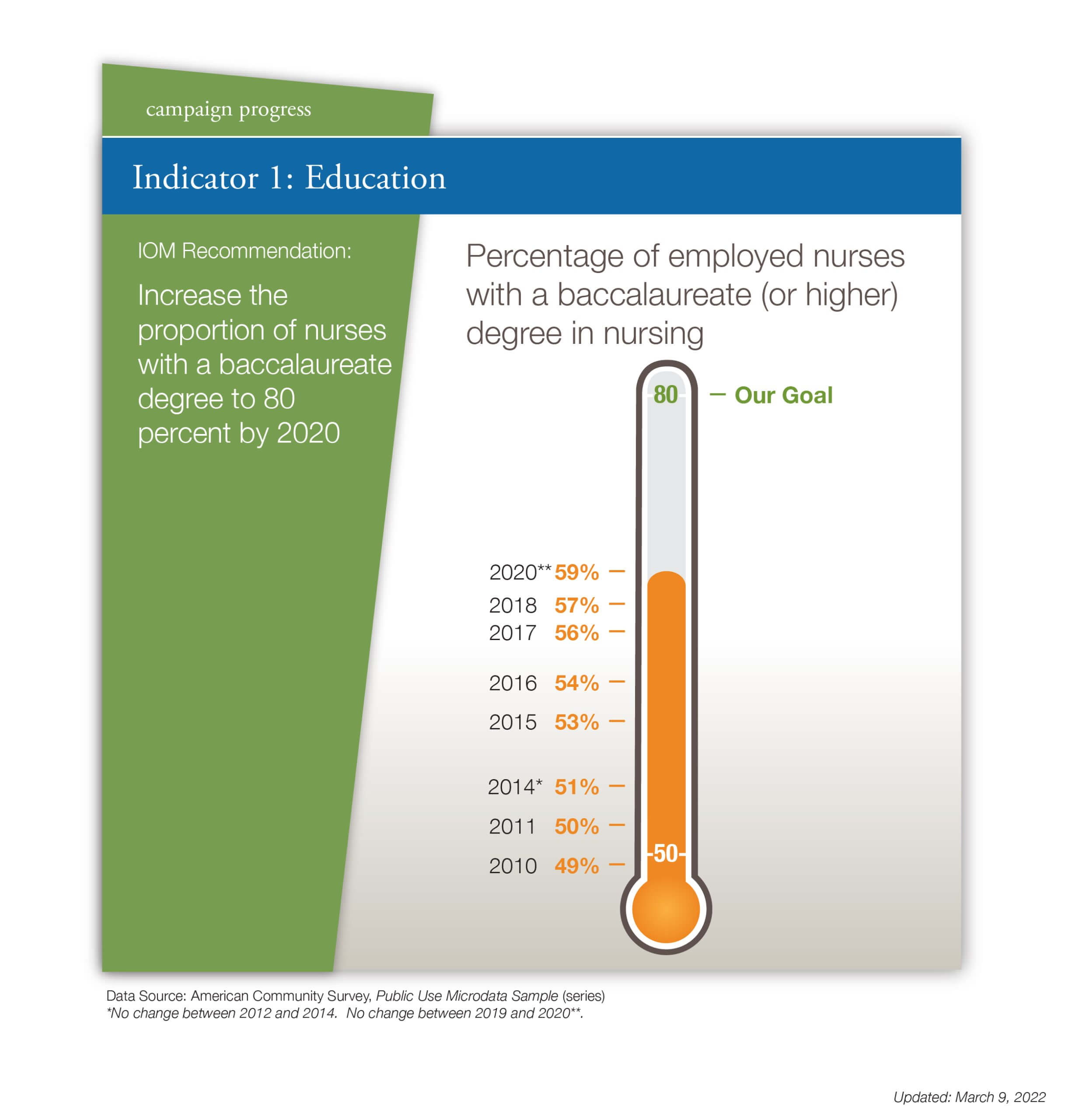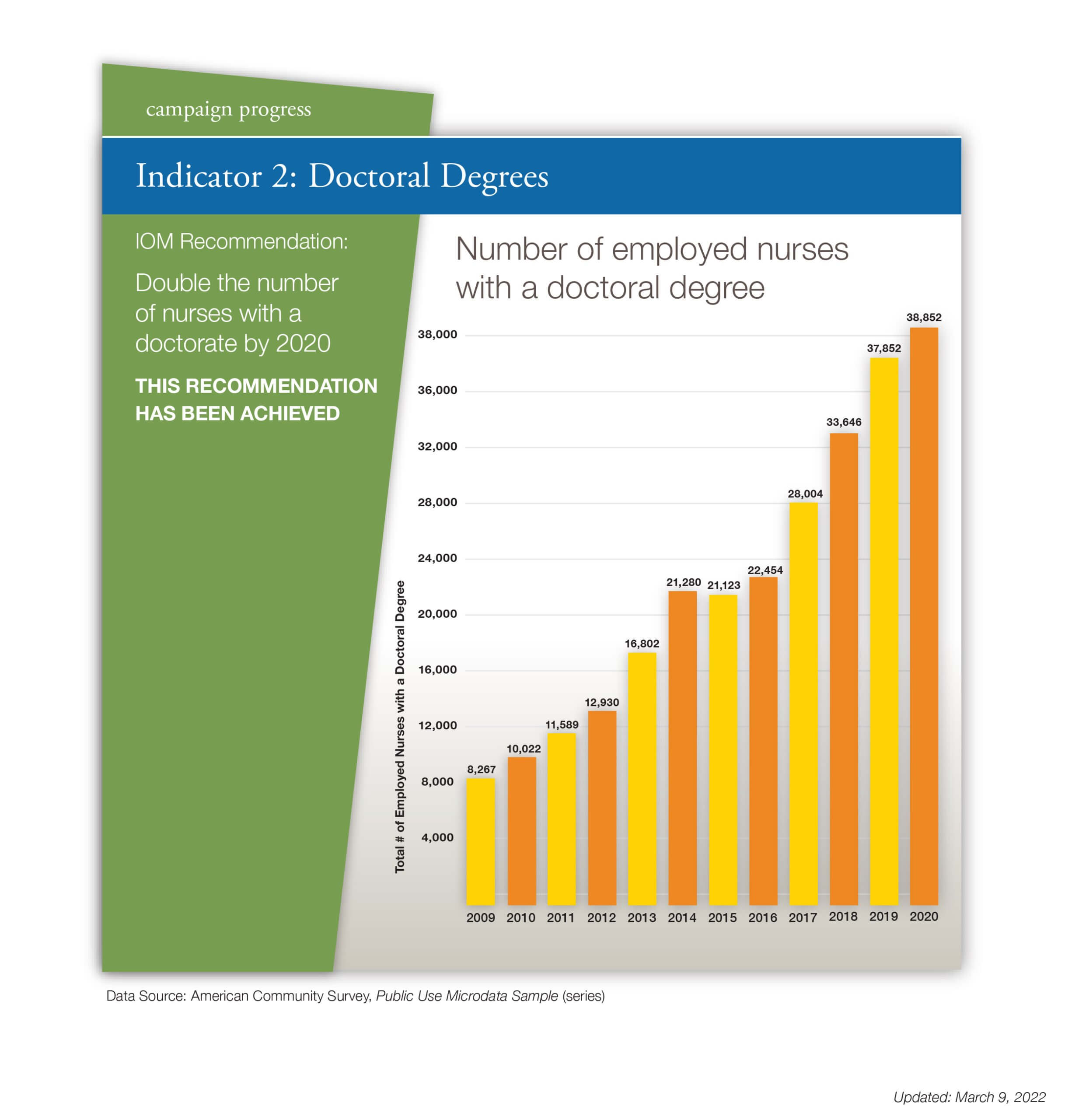 Resources:
Jan 01, 2023

The purpose of this resource is to guide faculty on culturally responsive approaches for engaging and mentoring of American Indian /Alaskan Native students, as well as to offer teaching and learning strategies for faculty to use with students. (Updated January 19, 2023). The more

Issues: Building Healthier Communities, Improving Access to Care, Improving Health Equity, Increasing Diversity in Nursing, Promoting Nursing Leadership, Transforming Nursing Education, Tools & Tips: Mentoring,

Mar 03, 2022

Below are links to secondary indicator graphics that provide further support for each goal represented within the Dashboard. These are updated twice per year and were last updated in March 2022. Indicator 1: Education—Increase the proportion of nurses with a baccalaureate more

Issues: Collecting Workforce Data, Fostering Interprofessional Collaboration, Improving Access to Care, Increasing Diversity in Nursing, Promoting Nursing Leadership, Transforming Nursing Education, Tools & Tips: Dashboard Indicators, Milestones, Location: National,